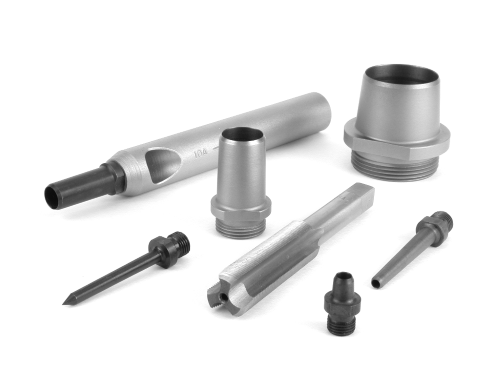 A complete system of interchangeable punches with a convenient "screw-in" design. These through hardened alloy steel punches are strong and durable, ideal for heaving cutting in multiple layers of thick materials such as leather, plastic, and rubber. We offer threaded shank tube and pin point punches along with taps for use in solid steel dies. Use our solid steel handles for hand punching applications.
Overview of Features:
For use in solid steel dies.
Perfect for hand punching operations.
Convenient "screw in" design for quick and easy set-up and replacement.
Threaded shanks allow for simple cutting size changes.
Wrench flats are provided on all punches for easy installation and removal.
All threaded shank punches are made from thru-hardened and tempered alloy steel for durability.
Cutting size range: Pin Point to 1" diameter
Available heights: 3/8", 17/32", 3/4", 7/8", 1", 1 1/4", 1 1/2" and 2"