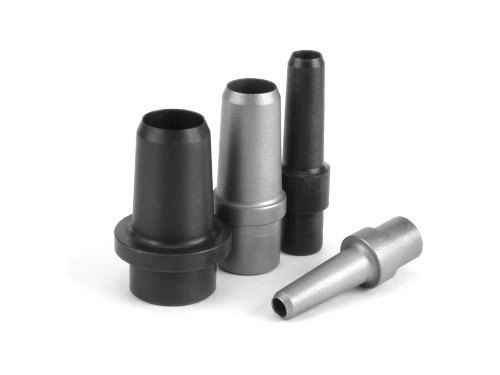 C & K Press Fit Tube Punches are ideal for heavy cutting in thick materials such as leather, plastic, rubber and similar materials. These punches maybe used for cutting multiple layers of material at one time.
Overview of Features
For use in solid steel dies.
Press fit shanks allow for simple cutting size changes.
All press fit tube punches are made from thru-hardened and tempered alloy steel for durability.
9/32" shank length.
Press fit tube punches cut approximately .007" larger than nominal hole size.
See reference drawing here.
Available heights: 3/4", 7/8" and 1".
Cutting Sizes for Press Fit Tube Punches
| Order Number | Nominal Hole Size | Shank Diameter | Shoulder Diameter |
| --- | --- | --- | --- |
| 1 | .040" | 5/16" | 3/8" |
| 2 | 3/64" | 5/16" | 3/8" |
| 3 | 1/16" | 5/16" | 3/8" |
| 4 | 5/64" | 5/16" | 3/8" |
| 5 | 3/32" | 5/16" | 3/8" |
| 6 | 7/64" | 5/16" | 3/8" |
| 7 | 1/8" | 5/16" | 3/8" |
| 8 | 5/32" | 5/16" | 3/8" |
| 9 | 11/64" | 5/16" | 3/8" |
| 10 | 3/16" | 5/16" | 3/8" |
| 11 | .1935" | 5/16" | 3/8" |
| 12 | 13/64" | 5/16" | 3/8" |
| 13 | 7/32" | 5/16" | 3/8" |
| 14 | 1/4" | 3/8" | 7/16" |
| 16 | 5/16" | 7/16" | 1/2" |
| 18 | 3/8" | 9/16" | 3/4" |
| 20 | 7/16" | 5/8" | 3/4" |
| 22 | 1/2" | 5/8" | 3/4" |